Price
Starting from 200,000
Type
Commercial & Residence
About the Project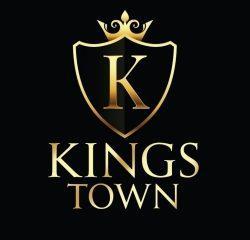 Kings Town Lahore is a project of the future that offers facilities of international standard
Kings Town Lahore is a housing society located on the Main Raiwind Road and it is a project of Al-Kabir Developers. Kings Town Lahore is a project of the future that offers facilities of international standard. The housing society is equipped with all the necessary amenities of life and provides a luxurious lifestyle to its residents.

This housing society is considered the future of Lahore as it has introduced many new trends in construction. There are 3 & 5 marla residential plots and fully constructed houses in addition to multiple category commercial plots. After Kings Town Lahore's success, its developers have launched Kings Town sector B. The payment plan of sector B currently includes 3 marla commercial plots. All these options make it possible for people from all walks of life to be able to find an option that suits their needs and requirements.
The main goal behind this project was to develop a convenient and affordable community that provides its residents with the opportunity to live healthy and peaceful life. The developers have not only provided state-of-the-art facilities but have ensured that the beauty of nature remains preserved.
Kings Town housing society is located on Main Raiwind Road which makes it easily accessible from anywhere in Lahore via public transport or personal vehicle.
After the magnificent success of Al-Kabir Town Phase-I and Phase-II and completing boh projects before given time, Al-Kabir Developers is proud to present a new project "Kings Town Raiwind Road Lahore". Situated at a prime location of Main Raiwind Road Lahore, Kings Town presents all the luxurious facilities of life that you deserve.
It's closest to several landmarks including:



• 3 minutes away from Ring Road Lahore




• Opposite to Bahria Orchard




• Close to Lake City




• 12 minutes drive from the Allama Iqbal International Airport Lahore.




• 10 minutes drive from the neighboring AWT town of Sui Gas Phase 2, Beaconhouse Housing Society, and Adda Plot Jati Umrah.
About Developers
Kings Town
The name behind Kings Town Lahore is an authoritative one. It's developed by Al-Kabir Developers, a constructions firm that successfully developed Al-Kabir Town Phase-I and Phase-II. Primarily, Kings Town Lahore is Phase-III of Al-Kabir Town.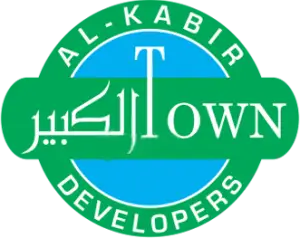 As a company, Al-Kabir Developers has been synonymous with high-end residential and commercial development. Chaudhary Aurangzeb is the CEO, Major (R) Tariq Manzoor is the Chief Engineer, and Lt. Col (R) Pervaiz is the Senior General Manager of Al Kabir developers. These all are highly learned personalities with extensive experience and expertise. Al-Kabir Developers are dedicated to providing an exceptional experience to customers. It's committed to developing projects that aim to build upon their needs and desires at every step along the way. Their goal is to create an environment that's not just home but a place of comfort and luxury.
Kings Town Lahore offers all sorts of modern comforts and luxuries. Kings Town Lahore has everything needed for upscale, modern, and convenient living. Its developers ensured the most sophisticated infrastructure, careful urban planning, and installation properties. All in all, it makes an attractive opportunity for living or real estate investment.
Download Project File
Download Project File in PDF for extensive details & information to read offline.
Kings Town Lahore is a legitimate project approved by Lahore Development Authority (LDA) and Tehsil Municipal Administration (TMA). It's one of the few housing schemes having affiliations with notable administrations such as WASA, PHA, and Punjab Irrigation Department. Kings Town Lahore is an FBR registered housing scheme.
All in all, Kings Town Lahore is a 100% NOC approved project, which indicates it's not an illegal project. Your investment in any area of Kings Town will be extremely safe.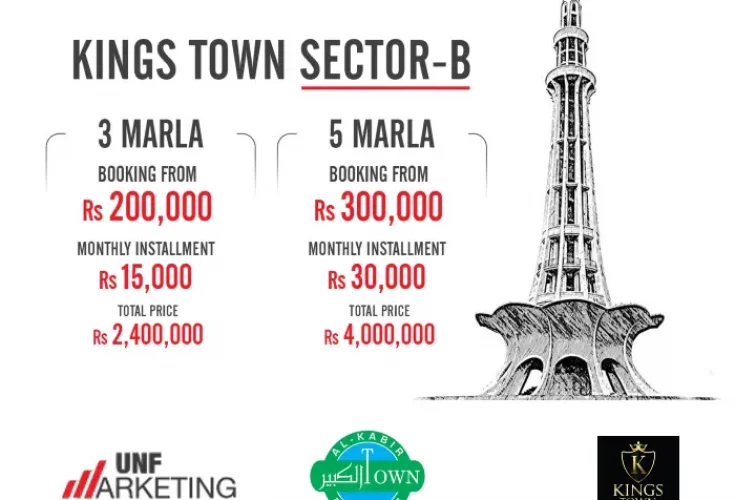 Is Kings Town Lahore a good Investment?
Capital Smart City Islamabad is a 100% safe and potentially profitable investment for the below 5 reasons.
Ideally located

Kings Town Lahore is ideally located on Main Raiwind road. Location is one of the most important aspects because people don't want to move to a location that's entirely isolated from the rest of the city. It's easy to access the entire city from Kings Town Lahore.
Backed by successful developers

Another major reason is the backing of successful developers – Al-Kabir Developers have previously developed Al-Kabir Town Phase-I and Phase-II, which are incredibly successful. It goes to show Kings Town Lahore is a potentially safe and profitable investment.
Easy payment plan

Being regarded as one of the most innovative yet affordable housing societies in Lahore, Kings Town offers easy payment plans. Whether you want to invest in a commercial or residential real estate property in Kings Town, you can pay in easy and simple installments.
Capital gain guaranteed

When you invest in Kings Town Lahore, your investment is backed by 100% capital gain guarantee. Those who invested in Al-Kabir Town have gained huge capital gain because of the high demand for its features.
Kings Town Lahore has a clean and safe surrounding, which's why it's a highly sought-after housing society.
Invest in Kings Town Lahore!
Kings Town Lahore has a clean and safe surrounding, which's why it's a highly sought-after housing society. Similarly, its legal status makes it a secure real estate investment opportunity. If you want to invest in a real estate property that you can call your home, life, and future Kings Town Lahore is certainly one such project.
Kings Town Lahore is a Al-Kabir Town's Phase 3. The developer is a highly reputed company that has delivered over 500 houses and 2000 apartments to its customers across two phases of Al-Kabir Town Lahore. It's a huge landmark for the developers of Kings Town Lahore.
Kings Town Lahore is a strategically planned and state-of-the-art housing society on Main Raiwind Road Lahore. It offers a multitude of affordable residential and commercial real estate investment options. Its master plan incorporates many blocks to cater to the different needs of customers. All the blocks are designed beautifully with the environment in mind.
Its true approval and impressive reputation of the developers ensure guaranteed capital gain and security of investment. When you make an investment in real estate, ROI is a major or the most important consideration. As per our expert team's analysis, Kings Town Lahore will offer a minimum annual benefit of 15% and an estimated 25K and 40K monthly rental income.
Why Always Purchase
From UNF Marketing?
Here are five reasons to always purchase from UNF Marketing
Making an informed investment decision can be overwhelming. We at UNF Marketing believe that current information available in the real estate investment niche is fragmented, unreliable, and at worst misleading for investors. Our service helps you make informed investment decisions by providing you with a detailed analysis of any given property, including the risks and benefits associated with each one. We'll understand your needs to decide where you should make your investment in Capital Smart City Islamabad.
We know you as a property buyer want to purchase a property at the best rate. We understand your budget and future goals and help you lock the deal at the best possible rates. Our experts are extremely efficient at intermediating between buyers and sellers to secure the best rates. Depending on the Capital Smart City payment plan, we'll ensure you get better rates to gain more from your real estate investment.
UNF Marketing has experts with a deep understanding of real estate investment portfolio management. Our experts are here to help you save time and money on the biggest transaction of your life. Our expert consultation will prepare a solid real estate investment strategy for you, whether you want to invest in Capital Smart City or somewhere else.
UNF Marketing has a highly experienced and honest team of professionals who ensure high-end transparency in every aspect of the process. Our clients trust us because we bring them the results they expect.
While you can get a plot at any housing society, you may not get the best location. Here at UNF Marketing, we perform location analysis and secure the best locations in the projects – so you can benefit more.
Payments Split into –
Booking

Balloting

Possession

Monthly Installments

Half Yearly Installments
Payments Split into –
Booking

Balloting

Possession

Monthly Installments

Half Yearly Installments
Master Plan
Master Plan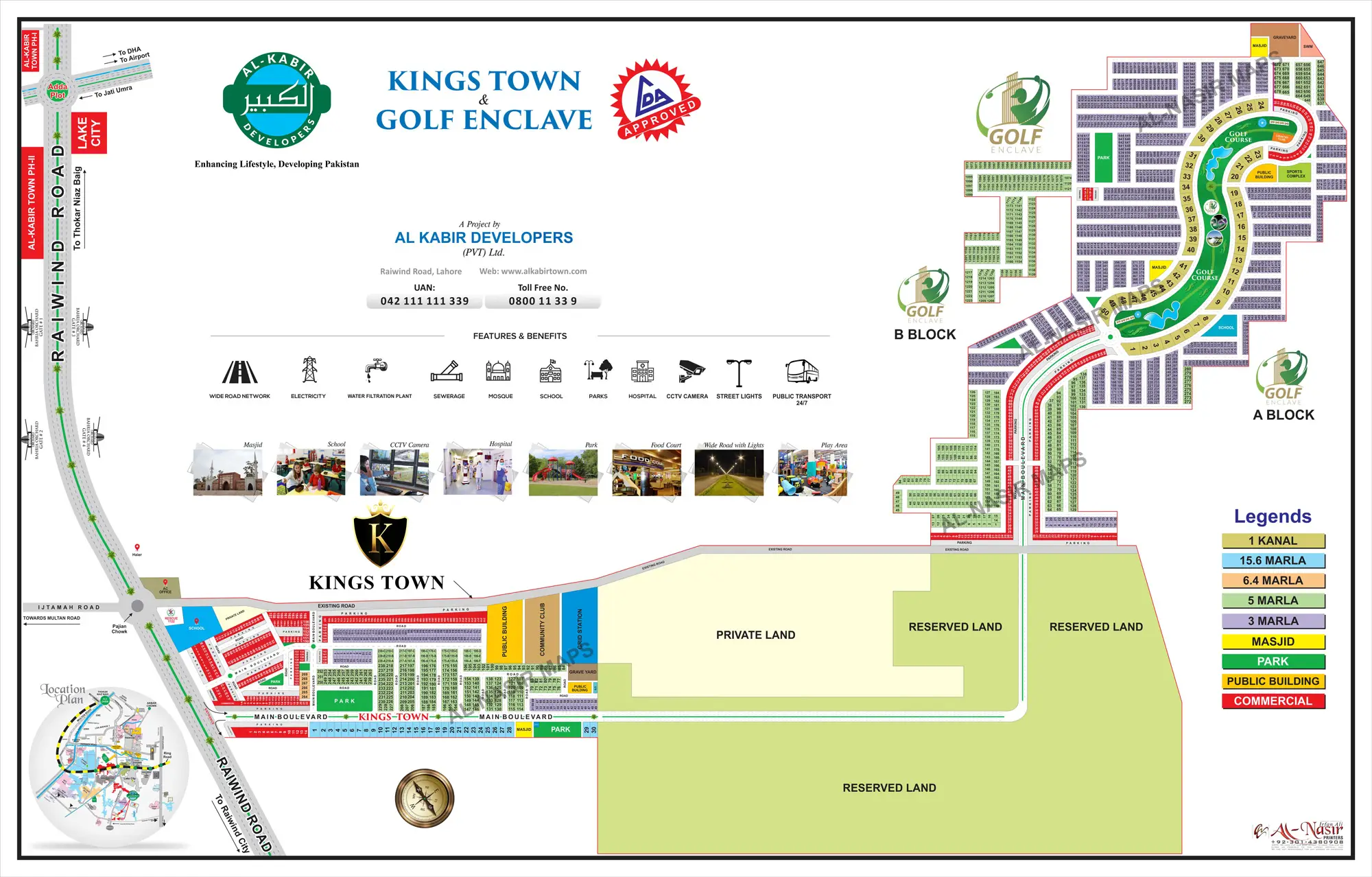 Master plan of Kings Town
FAQs
Is Kings Town Lahore a legal housing society?
Yes, it is a 100% legal and secure housing society to invest in. Its NOC and planning are approved by Lahore Development Authority (LDA). You can visit the official website of LDA for verification. It's also an FBR registered project.
When will the development work start in society?
The development work is already underway. The Main Boulevard development was completed some time ago. The construction of the mosque and other developments are also underway.
When will society grant possession of the plots?
Kings Town Lahore has promised to grant possession after 2 years.
How can overseas Pakistanis purchase real estate in Kings Town Lahore?
UNF Marketing helps overseas Pakistanis easily purchase their real estate properties in Kings Town Lahore or anywhere else. You don't need to send your original documents or come yourself. All you need is to send a few pictures of your required documents via WhatsApp or email to UNF Marketing and we'll work on your behalf to buy the right property for you – the best property according to your budget and future goals.